Male Ancestor

Dolor
Davis
b ca 1593
Northampton UK
d 2 Jun 1673
Barnstable, MA
(external link)
Tested Participant
Dallas Davis
Kit
FTDNA N16637
& Sorenson

Haplogroup
I1a Anglo-Saxon
SNP
M170+,M253+, M258+, M307+ P19+, P30+
P38+, M161-
M21-, M223-
M227-, M26, M72-, P37.2-
Locus
DYS #
Alleles
Panel 1
1
393
13
2
390
22
3
19 (also 394)
14
4
391
10
5
385a
13
6
385b
14
7
426
11
8
388
14
9
439
12
10
389-1
12
11
392
11
12
389-2
28
Panel 2
13
458
13
14
459a
8
15
459b
9
16
455
8
17
454
11
18
447
24
19
437
16
20
448
20
21
449
30
22
464a**
12
23
464b**
14
24
464c**
15
25
464d**
16
Panel 3
26
460
10
27
GATA H4
11
28
YCA II a
19
29
YCA II b
21
30
456
13
31
607
14
32
576
17
33
570
20
34
CDY a
34
35
CDY b
36
36
442
12
37
438
10
Panel 4
38
461
39
462
40
YGATAA10
41
635/C4
42
GGAAT1B07
43
441
44
444
45
445
46
446
47
452
48
463
49
643
50
425
Panel 5
51
450
52
485
53
495
54
505
55
508
56
520
57
522
68
532
69
533
70
534
71
540
72
556
73
557
74
594
The very widely dispersed M168 marker can be traced to a single individual—"Eurasian Adam." This African man, who lived some 31,000 to 79,000 years ago, is the common ancestor of every non-African person living today. His descendants migrated out of Africa and became the only lineage to survive away from humanity's home continent.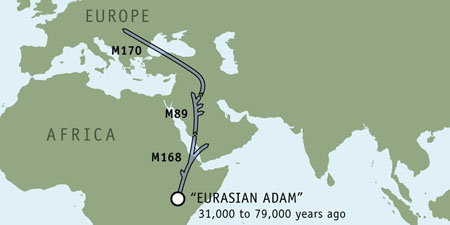 Population growth during the Upper Paleolithic era may have spurred the M168 lineage to seek new hunting grounds for the plains animals crucial to their survival. A period of moist and favorable climate had expanded the ranges of such animals at this time, so these nomadic peoples may have simply followed their food source.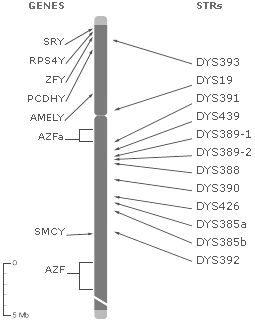 The location on the Y chromosome of each of the tested markers is depicted in the image above, with the number of repeats for each of your STRs presented to the right of the marker. For example, DYS19 is a repeat of TAGA, so if Dallas's DNA repeated that sequence 14 times at that location, it would appear: DYS19 = 14. Studying the combination of these STR lengths in a persons Y Chromosome allows researchers to place individuals in a haplogroup, which reveals the complex migratory journeys of ancestors.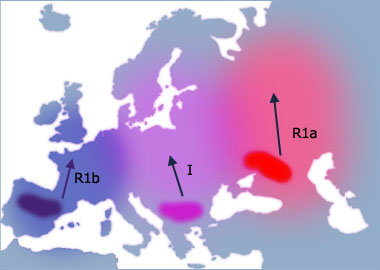 By 12,000 Y BP the ice has retreated and the land became much more supportive to life. Many animal species returned to inhabit the land. The three groups of humans had taken refuge for so long that their DNA had naturally picked up mutations, and consequently can be defined into different haplogroups. As they spread from these refuges, Haplogroups R1b, I and R1a propagated across Europe. The three groups of humans had taken refuge for so long that their DNA had naturally picked up mutations, and consequently can be defined into different haplogroups. As they spread from these refuges, Haplogroups R1b, I and R1a propagated across Europe. Haplogroup R1b is common on the western Atlantic coast as far as Scotland. Haplogroup I is common across central Europe and up into Scandinavia. Haplogroup R1a is common in eastern Europe and has also spread across into central Asia and as far as India and Pakistan.
Improved tools and rudimentary art appeared during this same epoch, suggesting significant mental and behavioral changes. These shifts may have been spurred by a genetic mutation that gave "Eurasian Adam's" descendants a cognitive advantage over other contemporary, but now extinct, human lineages.
Some 90 to 95 percent of all non-Africans are descendants of the second great human migration out of Africa, which is defined by the marker M89.
M89 first appeared 45,000 years ago in Northern Africa or the Middle East. It arose on the original lineage (M168) of "Eurasian Adam," and defines a large inland migration of hunters who followed expanding grasslands and plentiful game to the Middle East.
Many people of this lineage remained in the Middle East, but others continued their movement and followed the grasslands through Iran to the vast steppes of Central Asia. Herds of buffalo, antelope, woolly mammoths, and other game probably enticed them to explore new grasslands.
With much of Earth's water frozen in massive ice sheets, the era's vast steppes stretched from eastern France to Korea. The grassland hunters of the M89 lineage traveled both east and west along this steppe "superhighway" and eventually peopled much of the continent.
A group of M89 descendants moved north from the Middle East to Anatolia and the Balkans, trading familiar grasslands for forests and high country. Though their numbers were likely small, genetic traces of their journey are still found today.
Haplogroup I, is widespread throughout southeastern and central Europe and most common in the Balkans. Members of this haplogroup carry a 20,000-year-old marker dubbed M170.
This Y chromosome marker first appeared in the Middle East. Its subsequent spread into southeastern Europe may have accompanied the expansion of the prosperous Gravettian culture. These Upper Paleolithic people used effective communal hunting techniques and developed art notable for voluptuous female carvings often dubbed "Venus" figures.
The later spread of this lineage could be also tied to the mid-first millennium B.C. Celtic culture. The tantalizing possibility could explain the wider dispersal of this unique genetic marker.
Interpretation of the various population varieties within Y-Haplogroup I and their extended Modal Haplotypes has been studied in some detail by has been carried out by Ken Nordtvedt and is summarized on his web site.
Although Dallas has not had an extended set of markers tested yet his 12 marker results are nearly identical with the modal values for haplogroup I1a. Amost all I1a has the very unusual 8 repeats at DYS455, a very slow mutating marker. And virtually no other European haplotypes outside of I1a have 8 repeats at DYS455. This makes identifying and studying I1a haplotypes quite straightforward if one's extended haplotypes include this marker (which Dallas has not had tested yet). The motif YCAIIa,b = 19,21 is also close to universal over all of I1a, however I1c shares this same modal pair of repeat values at this marker, so one would look first to DYS455 before YCAIIa,b in identifying I1a haplotypes.
Dallas is part of a very distinctive subgroup of haplogroup I1a termed I1a-AS (AngloSaxon), the most populous form of I1a that is found. It must be considered the major core haplotype variety of I1a. it acquired its nickname (AngloSaxon) because it reaches its highest percentages of population in areas of continental Europe where the Anglo-Saxons are said to have originated, the Netherlands, northwest Germany and Denmark. It is also found today throughout modern Germany, but falls to about half the fraction of total population in southern and eastern Germany. Southern Sweden also has a high proportion of this basic I1a variety. This I1a variety was brought to the British Isles by the Anglo-Saxon invader/immigrants who arrived in the 5th century AD following the withdrawl of the Roman legions. Regional studies in Great Britain such as that of Capelli show that this I1a variety reaches its highest concentration in areas where Anglo-Saxons and later Danish immigrants settled in what became known as the Danelaw.
The core I1a-AS haplotype to look for when only a small set of markers are available are:
DYS19 = 14
DYS390 = 22
DYS385a,b = (13,14)
DYS391 = 10
DYS 392 = 11
DYS 393 = 13
DYS 389i,ii = (12,28)
DYS 388 = 14
The entire I1a-AS modal haplotype as exhibited is remarkably stable at all the rest of the markers other than the few specifically discussed.
Definitions
Allele: Alternative form of a genetic locus; a single allele for each locus is inherited separately from each parent (e.g., at a locus for eye color the allele might result in blue or brown eyes).
DYS : D = DNA, Y = Y chromosome, S = a unique DNA segment. This nomenclature is controlled by the HUGO Gene Nomenclature Committee, with the assignment of new DYS numbers. This guideline determines each part of the symbol for naming arbitrary DNA fragments and loci. See section Appendix App 1.1 DNA Segments located at:

http://www.gene.ucl.ac.uk/nomenclature/guidelines.html#1.4
Locus (pl. loci): The position on a chromosome of a gene or other chromosome marker; also, the DNA at that position. The use of locus is sometimes restricted to mean regions of DNA that are expressed. The specific physical location of a gene on a chromosome. From the Latin for 'place'. A stretch of DNA at a particular place on a particular chromosome — often used for a 'gene' in the broad sense, meaning a stretch of DNA being analyzed for variability (e.g., a microsatellite locus).
Marker: An identifiable physical location on a chromosome (e.g., restriction enzyme cutting site, gene) whose inheritance can be monitored. Markers can be expressed regions of DNA (genes) or some segment of DNA with no known coding function but whose pattern of inheritance can be determined. A gene of known location on a chromosome and phenotype that is used as a point of reference in the mapping of other loci.
Return to DNA Test Results Index

Link to table where Y chromosome marker results for all participants are summarized together