Digital Extracts From the William Patterson Family Bible
Deaths
Return To William Patterson Family Bible Index
Return to Photo Album Index Page
Entry last updated 4 April 2009
Please contact Tim Patterson (tim.patterson@carleton.ca)
to provide additional data, or to correct any errors.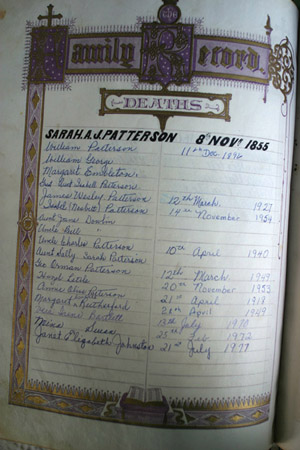 Death dates found in the the William Patterson family bible. With the exception of the entry for Sarah A.J. Patterson the other entries seem to have been made during two sessions during the 1970's.
Medium sized pop up image
700 X 1050, 72 dpi, 227 k
Full sized pop up image
2048 X 3072, 180dpi, 2970 k
Return to Cornelius of Sunderland Passenger List
Patterson Family Page 1, 2, 3, 4, 5, 6, 7, 8, 9, 10
11, 12, 13, 14, 15, 16, 17, 18, 19, Bibliography, Index
Return To William Patterson Family Bible Index